Hotpoint BHWM149
Integrated Washing Machine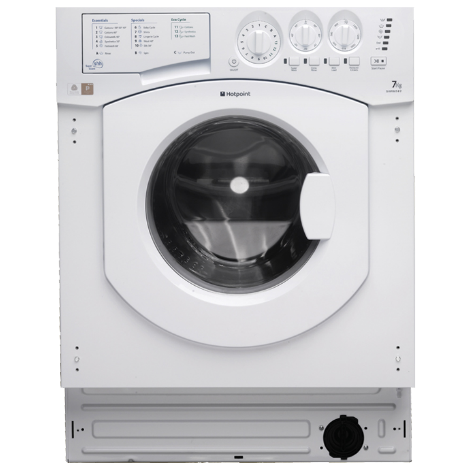 Main Features:

Programs:
4 Cotton programmes, Colours programme, Synthetics programme, Fastwash 60 minute programme, Baby Cycle programme, Shirts programme & Lingerie Cycle Programme

Eco Cycles:
Cottons, Synthetics & Fastwash 30 minutes

Partial Wash Cycles:
Rinse, Spin & Pump Out

Options inside various programmes:
Reduced Creases, Super Wash, Extra Rinse & Mini Load

This Hotpoint Super Silent washing machine is equipped with a specialised motor which dramatically reduces noise levels during the wash cycle, so that you'll hardly know it's working.

All Hotpoint washing machines feature a special programme endorsed by Woolmark ®, the world's leading authority on all wool items. Extra gentle agitation and low spin speeds help to eliminate any friction between the fibres of wool garments, thereby ensuring a perfect wash. Cabinet door is reversible, it can hinge either left or right. Washer door is not reversible (glass door).

Annual Water Consumption : 9039 Litres
Maximum spin speed 1400 rpm
Maximum wash load size: 7 kg
Annual energy consumption: 212 kWh

Energy Class : A+
Dimensions (H x W x D) 820mm x 595mm x 550mm
Minimum opening size (H x W x D): 830mm x 600mm x 560mm

This Hotpoint appliance has a 5 year parts and 1 year labour guarantee.







This appliance is no longer available,
please follow this this link to view our current models,