AEG BP3003001M
Pyroluxe® Plus single oven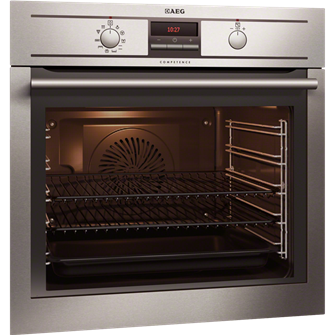 Pyroluxe® Plus cleans thoroughly enough to impress the professionals. The self cleaning function heats the oven up to 500°C. At this temperature, all food residue is turned to ash, with no unpleasant odours or chemical cleaning agents. Simply wipe out the ash with a damp cloth.

AEG MaxiKlasse™ ovens provide up to 30% more internal space than their previous models while being no bigger in size on the outside. 74 litres in volume, big enough to accommodate a large turkey.

This AEG MaxiKlasse™ oven come with AntiStick oven shelves which have a special coating to stop grease from sticking. These are really easy to clean with just water.

Higher performance with exclusive AEG cooking technology. The new exclusive ThermiC° Hot Air cooking technology in the MaxiKlasse™ oven range ensures precise heat circulation and exact temperature control. The result is perfect cooking in every corner. On any shelf. In any position.

Inclined FloodLight™ focuses 100% on the food. Specially positioned at the front of the oven and angled directly onto the food.

Isofront® Plus quadruple glazed door. Multi-layered glass panes, with heat reflective coating to keep the heat in the oven.

Thanks to the IsoFront® Top door with heat-reflective coating, this oven keeps the heat inside and leaves the outside of the door relatively cool to the touch. The front of the door reaches a maximum temperature of 20°C higher than standard room temperature. For Pyroluxe® ovens during the self-cleaning phase the maximum door temperature is 70&degC; higher than room temperature.

The interactive OptiSight™ timer display keeps you firmly in control of the progress of your dish. Via the display, you can program the oven to switch on or off at a particular time, which means you can plan ahead with far more accuracy. It also displays the time and can suggest temperatures for cooking different dishes.

Auto safety switch off and child lock. Oven controls can be locked to prevent misuse, providing safety and peace of mind.

Fan controlled defrosting
Retractable controls for a flush finish and easy cleaning.
Dual circuit economy variable grill.
Fan baking - the fan circulates hot air, which is generated by the bottom element and ring element for perfect results when batch baking.

Stainless Steel with antifingerprint coating.
Energy Rating: A
Dimensions h,w,d : 594mm, 594mm, 567mm
Dimensions of cabinet opening to suit: h,w,d: 590mm, 560mm, 550mm

This AEG appliance comes with a full 5 year guarantee.


This appliance is no longer available,
please follow this this link to view our current models,