AEG BP5304001M
Pyroluxe® Plus single oven with built in cleaning reminder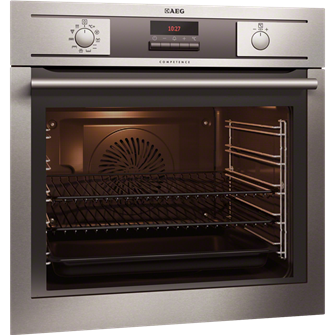 Pyroluxe® Plus cleans thoroughly enough to impress the professionals. The self cleaning function heats the oven up to 500°C. At this temperature, all food residue is turned to ash, with no unpleasant odours or chemical cleaning agents. Simply wipe out the ash with a damp cloth.

This AEG MaxiKlasse™ oven features a core temperature sensor probe, which turns off the oven as soon as your food reaches the desired set temperature. This ensures your food is never under or over cooked.

AEG MaxiKlasse™ ovens provide up to 30% more internal space than their previous models while being no bigger in size on the outside. 74 litres in volume, big enough to accommodate a large turkey.

This AEG MaxiKlasse™ oven come with AntiStick oven shelves which have a special coating to stop grease from sticking. These are really easy to clean with just water.

Higher performance with exclusive AEG cooking technology. The new exclusive ThermiC° Hot Air cooking technology in the MaxiKlasse™ oven range ensures precise heat circulation and exact temperature control. The result is perfect cooking in every corner. On any shelf. In any position.

Inclined FloodLight™ focuses 100% on the food. Specially positioned at the front of the oven and angled directly onto the food. This oven also has a sidelight - giving extra light to view your food.

Isofront® Plus quadruple glazed door. Multi-layered glass panes, with heat reflective coating to keep the heat in the oven.

Illuminated retractable rotary controls. Sleek and stylishly designed OptiSight™ illuminated retractable controls provide instant feedback.

Auto safety switch off and child lock. Oven controls can be locked to prevent misuse, providing safety and peace of mind.

Fan controlled defrosting
Retractable controls for a flush finish and easy cleaning.
Dual circuit economy variable grill.
Fast heat up. No waiting for your oven to reach full heat, eliminating the need for preheating.

Stainless Steel with antifingerprint coating.
Energy Rating: A
Dimensions h,w,d : 594mm, 594mm, 567mm
Dimensions of cabinet opening to suit: h,w,d: 590mm, 560mm, 550mm

This AEG appliance comes with a full 5 year guarantee.


This appliance is no longer available,
please follow this this link to view our current models,