AEG BS7304001M
Pyroluxe® ProCombi™ Steam oven with ProSight touch controls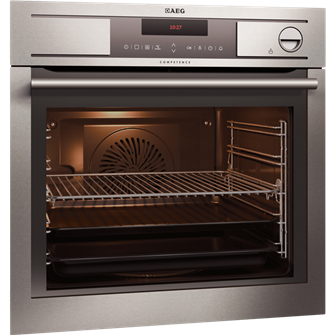 With this unique ProCombi oven, you can achieve results even a professional chef can be proud of – a true taste experience. It uses a combination of steam and hot air to ensure your dish has the maximum flavours, the most alluring aromas and the most satisfying textures. Depending on the dish, you can use either 100%, 50% or 25% steam.

The large ProSight LCD touch-control display, can show the cooking mode, time, temperature and updates on the progress of your dish. You can even use it to access pre-programmed recipes.

This AEG MaxiKlasse™ oven features a core temperature sensor probe, which turns off the oven as soon as your food reaches the desired set temperature. This ensures your food is never under or over cooked.

AEG MaxiKlasse™ ovens provide up to 30% more internal space than their previous models while being no bigger in size on the outside. 74 litres in volume, big enough to accommodate a large turkey.

Inclined FloodLight™ focuses 100% on the food. Specially positioned at the front of the oven and angled directly onto the food. This oven also has a sidelight - giving extra light to view your food.

Isofront® Plus quadruple glazed door. Multi-layered glass panes, with heat reflective coating to keep the heat in the oven.

SoftMotion™ Soft Close door. The newly designed oven door will close itself softly and quietly, when it reaches a certain angle - in a smooth, elegant movement. More evidence of premium design.

Vigorous steam - the steam generator works with a fixed temperature 96°C, to deliver a constant flow of steam. Ideal for vegetables, rice and fish, it ensures that all the vitamins and nutrients are retained.
Interval steam - this unique feature alternated steam and fan cooking with 25% steam and 75% hot air. Food is crisp on the outside and moist and succulent on the inside, so it looks and tastes better. Ideal for roasting, baking and complete meal cooking.
Base heat finishing - heat from the bottom element only. Perfect for reheating pies and pastries as it keeps the pastry crisp. It can also be used on warm plates.
Fan baking - the fan circulates hot air, which is generated by the bottom element and ring element for perfect results when batch baking.
Slow cook - uses low temperatures to gently tenderise and cook foods through. This is ideal for casseroles and joints.

Electronic touch controls for easy use .
Menu guided cooking.
Auto safety switch off and child lock. Oven controls can be locked to prevent misuse, providing safety and peace of mind.
Fan controlled defrosting
Fast heat up. No waiting for your oven to reach full heat, eliminating the need for preheating.

Stainless Steel with antifingerprint coating.
Energy Rating: A
Dimensions h,w,d : 594mm, 594mm, 567mm
Dimensions of cabinet opening to suit: h,w,d: 590mm, 560mm, 550mm

This AEG appliance comes with a full 5 year guarantee.

This appliance is no longer available,
please follow this this link to view our current models,