AEG DC7003000M
High performance built-in double oven with interactive digital cooking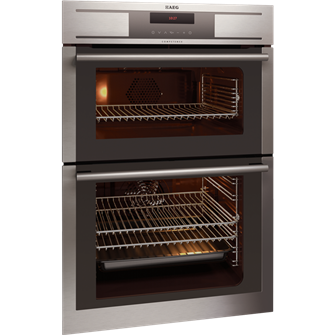 Our sleek and stylish ProSight panel enables you to operate both ovens with just one set of controls for fast, simple access and cooking function selection. The Interactive LCD display provides instant feedback.

Interactive digital cooking recommends the ideal cooking temperature for the function selected and keeps you informed on the cooking process.

Multifunction in both ovens with all the benefits of true fan and conventional cooking. Use different functions to get the best results for what you are cooking.

Our true fan cooking system gently circulates hot air through the oven cavity allowing you to cook sweet and savoury foods at the same time, on any shelf position, with no transfer of flavour or taste, ensuring mouth watering results are achieved.

Large 68 litre main oven and 43 litre top oven, offer total flexibility and space for cooking lots of dishes.

CataLuxe® liners in both ovens, an aid to cleaning.

MaxiView, enables you to see at a glance the progress of your meal.

A energy rating in both ovens for optimum efficiency.

Stay in control of your cooking with the fully programmable timer.

Number of top oven functions: 8
Mumber of bottom oven functions: 10
Top oven capacity: 43 litres
Bottom oven capacity: 68 litres
Energy Rating Top Oven: A
Energy Rating Bottom Oven: A

Energy Rating: A
Dimensions h,w,d : 888mm, 594mm, 548mm
Dimensions of cabinet opening to suit: h,w,d: 875mm, 560mm, 550mm

This AEG appliance comes with a full 5 year guarantee.




Appliance & Installation / Fitting €999
To order call 01 5252993