Electrolux ENN2743AOV
Integrated 50 50 Frost Free Fridge Freezer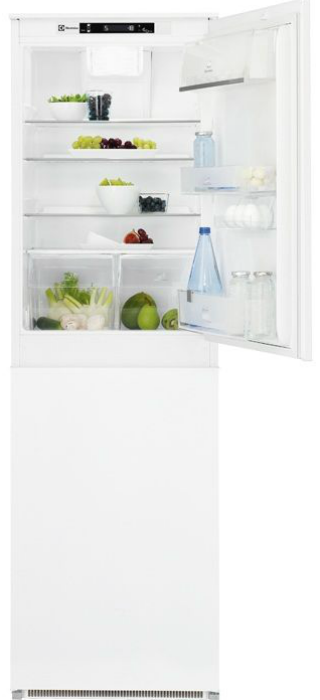 With this fridge freezer, you will make savings for yourself – in terms of time and money! Its FrostFree system saves time defrosting your freezer, while its energy-efficient technology has earned an A+ rating for energy use, saving you money. And that guarantees its leading level of energy efficiency.

Ensure that you have precise temperature and function control with the LCD Touch Control electronic display.

ShoppingFunction quickly cools down your fridge in preparation to quickly and safely cool down your weekly shopping.

Holiday function to minimize energy consumption during long absence avoiding mould and bad odours.

Keep your vegetables fresh and crisp until you need them in our 2 half width salad drawers.

Visible and audible TempAlert to warn when the temperature rises.

Thanks to their new design, the two full width and 2 half depth glass shelves, give you extra width and depth when packing the fridge. With fewer restrictions, you have more flexibility.

The full width dairy compartment is ideal for butter and cheese as these foods can then be served straight from the fridge.

The innovative half-width shelf in the door can slide from left to right, giving you more options when storing your food.

The FastFreeze function freezes fresh foods faster so vitamins, texture, flavour and all healthy qualities are preserved better.

Audible and visible warning signal for open door.

Maximise freezer storage space with the 4 full width drawers.

CFC & HFC free, helping the environment.
Fridge Gross Capacity : 164 Litres
Freezer Gross Capacity : 91 Litres
Fridge Net Capacity : 158 Litres
Freezer Net Capacity : 88 Litres

Energy Rating : A+
Noise Level: 38dB
Annual Energy Consumption: 307kWh
Dimensions (H x W x D) 1772mm x 540mm x 547mm
Minimum cabinet opening size (H x W x D): 1780mm x 560mm x 550mm


This Electrolux appliance comes with a full 2 year warranty.


This appliance is no longer available,
please follow this this link to view our current models,