Electrolux ENN2853AOW
Integrated 70 30 Frost Free Fridge Freezer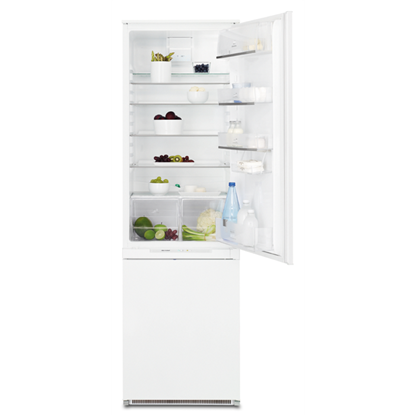 Fruits and vegetables that are fresh, are much healthier and taste best. Their quality and taste should be maintained as long as optimally possible. Electrolux Twintech Frost Free ® technology with the Free Store ® independent air circulation in both the refrigerator and freezer compartments ensures the perfect humidity level to preserve taste, texture and freshness longer than traditional "no-frost" fridge freezers.

The Intelligent Free Store ® system automatically compensates for temperature and humidity throughout the refrigerator, so storage conditions are the same everywhere. This means that no matter where you place your food in the fridge, it will still be as fresh when you are ready to serve it!

With this model you can make savings - in terms of time and money! Its entire Frost Free System saves you spending time defrosting your freezer, while the energy-efficient technology has earned an A+ energy label for power consumption.

Texture is as important as taste for professional chefs. To ensure that your fruit and vegtables retain their texture for as long as possible, they have there own drawer. Its moisture management keeps everything fresh and crisp for longer - until the moment you need it.

This fridge can be arranged to suit you. It has half depth glass shelves that can be moved to create more space for tall items. That way you can use the space to suit your own requirements.

3 Freezer Drawers.
CFC & HFC free, helping the environment.
Fridge Net Capacity : 210 Litres
Freezer Net Capacity : 58 Litres

Energy Rating : A+
Noise Level: 40dB
Annual Energy Consumption: 309kWh
Dimensions (H x W x D) 1772mm x 540mm x 547mm
Minimum cabinet opening size (H x W x D): 1780mm x 560mm x 550mm


This Electrolux appliance comes with a full 2 year warranty.








This appliance is no longer available,
please follow this this link to view our current models,