Electrolux ENN2901AOW
Integrated 70 30 Fridge Freezer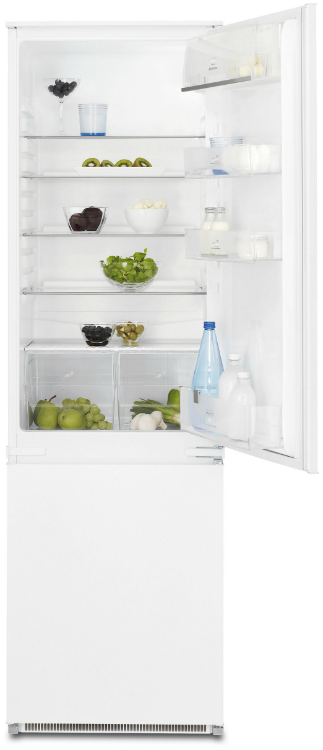 Fridge features:

The glass shelves in this refrigerator have been designed to enable you to use the full width and depth of the fridge's internal space. Because there are no restrictions, you have extra loading space, and can fit more into your fridge.
Texture is just as important as taste for professional chefs. To make sure your food's fresh texture lasts longer in your fridge, store fruit and vegetables in the dedicated drawer. Its humidity control keeps everything fresh and crisp for far longer – right up until the moment you need it.
Automatic fridge defrost.
3 full width door shelves including bottle shelf
1 full width covered dairy compartment.
Bright internal lighting for better visability.
2 salad drawers.
Adjustable temperature control.


Freezer features:

This is a fridge freezer that offers you greater accessibility to all your frozen food. The drawers have transparent fronts, so you can see at a glance what is inside. Plus, each drawer has useful carry handles that give you a comfortable grip when you want to move them to a different spot – such as onto the countertop.
4 star freezer, allows you to safely freeze fresh food and store frozen food.
3 freezer drawers.

Fridge Gross Capacity : 214 Litres
Freezer Gross Capacity : 76 Litres
Doors are reversible, they can hinge left or right.

Energy Class : A+
Annual Energy Consumption : 310 kWh
Dimensions (H x W x D) 1772mm x 540mm x 547mm
Minimum cabinet opening size (H x W x D): 1780mm x 560mm x 550mm


This Electrolux appliance comes with a full 2 year warranty.








This appliance is no longer available,
please follow this this link to view our current models,