ELECTROLUX EOB63100X
Ultrafan® Built In multi-function oven with fully programmable electronic timer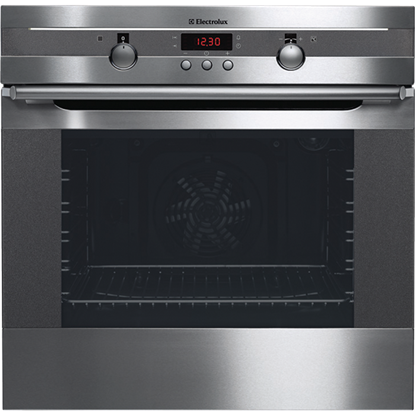 Stunning design with light bar to complement today's modern kitchens.
Multifunction combines Ultrafan® cooking with other cooking functions, you can choose the best setting to suit your cooking needs.
Ultrafan® cooking ensuring no transfer of flavours, so you can cook sweet and savoury together.
Defrost setting for safe and quick defrosting.
Turbo grilling, combines grill and fan for a spit roast effect.
Baking chart on the inner door of the oven, for added convenience.
Retractable rotary controls with fully programmable oven timer, allowing you to plan ahead.
Catalytic cleaning, aids oven cleaning and saves you time.
Removable door and glass panels for easy cleaning.
Fold down grill - for easy cleaning.
Cool door, with 3 panes of glass for added safety while you cook.
Colour: Anti-fingerprint stainless steel.

Energy Rating: A
Dimensions h,w,d : 594mm, 594mm, 567mm
Dimensions of cabinet opening to suit: h,w,d: 590mm, 560mm, 550mm

All Electrolux appliances carry a full 12 months parts and labour guarantee plus an additional 4 years major parts guarantee.




This appliance is no longer available,
please follow this this link to view our current models,