Electrolux EOD33003X
Ultrafan® Built In double oven with fully programmable electronic timer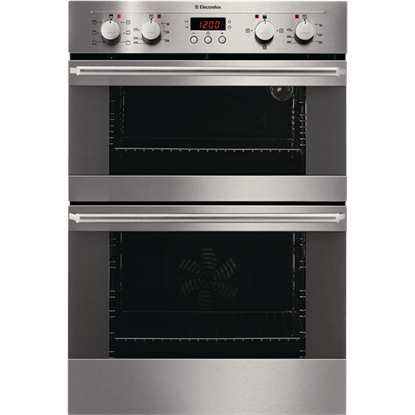 Energy Rating Top Oven: A
Energy Rating Bottom Oven: A
Modern Design.
2 main oven functions.
5 top oven functions.
'A' energy rating in both ovens for optimum efficiency.
Ultrafan® cooking ensuring no transfer of flavours, so you can cook sweet and savoury together.
Turbo grilling achieves the best grilling results, combining grill and fan cooking for a spit roast effect.
Defrost setting for safe and quick defrosting.
Smooth enamel interior - easy to clean.
Rotary controls with fully programmable oven timer, allowing you to plan ahead.
Cool oven doors, with 2 panes of glass for added safety while you cook.
Colour: Anti-fingerprint stainless steel.

Energy Rating: A
Dimensions h,w,d : 888mm, 594mm, 567mm
Dimensions of cabinet opening to suit: h,w,d: 875mm, 560mm, 550mm

All Electrolux appliances carry a full 12 months parts and labour guarantee plus an additional 4 years major parts guarantee.




This appliance is no longer available,
please follow this this link to view our current models,