Electrolux EOU5410BOX
Inspiration design built under double oven with retractable rotary controls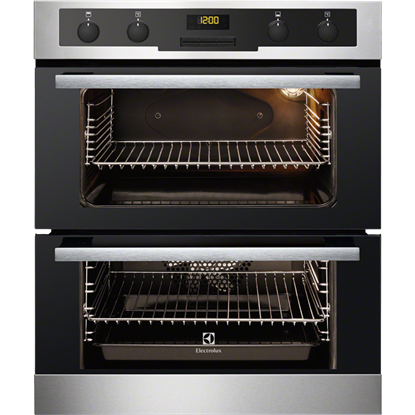 You can have dinner ready exactly when you want it, this interface with amber LED display enables you to select the cooking end-time and duration. It has retractable knobs and push buttons for access to all settings

5 top oven functions including:
Bottom heat
Single Grill
Dual Grill
Top Heat
Conventional Oven
Light- to light up the oven interior

2 bottom oven functions including:
Thermaflow®, Roast, or roast and bake food at the same cooking temperature on different levels at the same time.
Defrost
Light- to light up the oven interior

Digital program timer

The walls of this oven have a catalytic coating which make cleaning easier. They absorb fat which collects on walls while the oven operates.

Both doors of this oven are removable for cleaning along with their inner glass. The rails that support the trays are also removable for cleaning.

Top oven capacity: 40 litres
Bottom oven capacity: 46 litres
Energy Rating: A
Dimensions h,w,d : 715mm, 594mm, 548mm
Dimensions of opening to suit: h,w,d: 720mm, 600mm or 560mm, 560mm

This Electrolux appliance comes with a full 2 year warranty.





Appliance & Installation / Fitting €730
To order call 01 5252993