Electrolux ERG2305AOW
1220mm Larder Fridge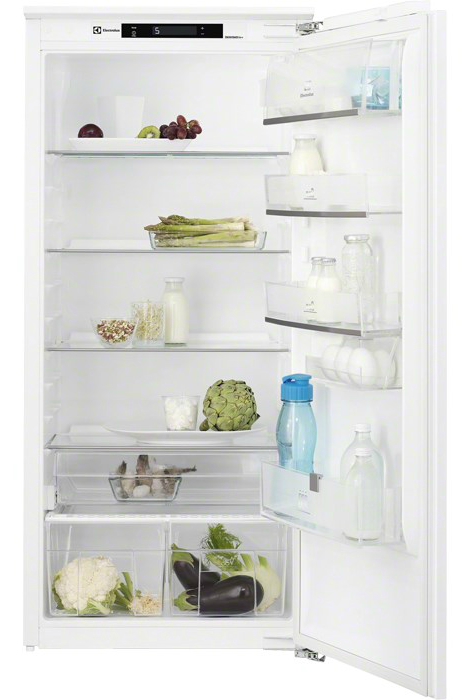 With its A++ energy efficiency rating, this energy-saving hero saves 25% more on energy costs than A+ models – and that's while still delivering a top performance.

Every professional chef will tell you, using fresh ingredients is the key secret to fabulous cooking. That's why this refrigerator has a FreshZone, a low-temperature compartment that's 15% colder than the rest of the fridge. Especially designed to store meat and fish, they will stay naturally fresh for twice as long.

Ensure that you have precise temperature and function control with the LCD Touch Control electronic display.

Shopping function quickly cools down your fridge in preparation of your weekly shopping.

Holiday function to minimize energy consumption whilst yo are away, avoiding mould and bad odours.

Check out the contents of your fridge using premium LED lighting technology. This energy-saving lighting system gives you excellent visibility.

Keep your vegetables fresh and crisp until you need them in our 2 half width salad drawers.

Visible and audible TempAlert to warn when the temperature rises.

The full width covered dairy compartment is ideal for butter and cheese as these foods can then be served straight from the fridge.

Achieve flexible food storage with the inclusion of 3 full width and 2 half depth shelves.

The innovative half-width shelf in the door can slide from left to right, giving you more options when storing your food

Fridge capacity (gross): 225 litres
Annual Energy Consumption: 105 kWh
Noise Level: 33dB
Kitchen Cabinet Door Type: Hangs On Fridge Door (Door On Door System)
Reversible door

Energy Rating : A++
Dimensions (H x W x D) 1219mm x 556mm x 550mm
Minimum cabinet opening size (H x W x D): 1225mm x 560mm x 550mm

This Electrolux appliance comes with a full 2 year warranty.




This appliance is no longer available,
please follow this this link to view our current models,
To order call 01 5252993