Electrolux ERU1101FOW
Under Counter Integrated Freezer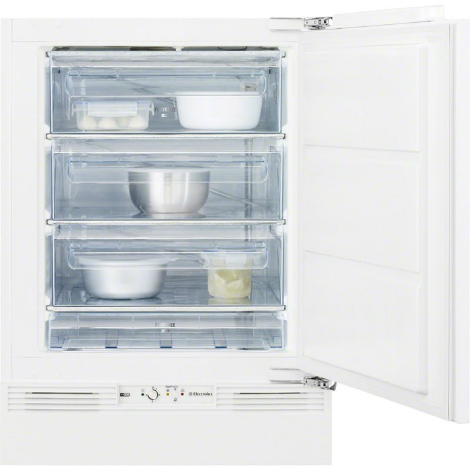 The A+ energy rating means that this model is highly efficient, ensuring low running costs.

The FastFreeze function freezes fresh foods faster so vitamins, texture, flavour and all healthy qualities are preserved better.

There's no need to worry about the temperature of your freezer rising, as the TempAlert will let you know if it happens with a warning light and alarm.

Freezer drawer with handles and transparent front for easy use and great visibility.

Adjustable temperature control for safe food storage.

Audible and visual open door warning alarm.

Maximise freezer storage space with the 4 full width drawers.


Energy class: A+
Fridge capacity (gross): 108 litres.
Annual energy consumption: 198kWh
Noise: 38dBA
Power cut safe time: 29 hours
Reversible door.
Dimensions (H x W x D) 815mm x 596mm x 550mm
Minimum dimensions of kitchen opening to suit (H x W x D): 820mm, 600mm, 550mm.

This Electrolux appliance comes with a full 2 year warranty.






This appliance is no longer available,
please follow this this link to view our current models,