Electrolux ERY1401AOW
Under Counter Integrated Fridge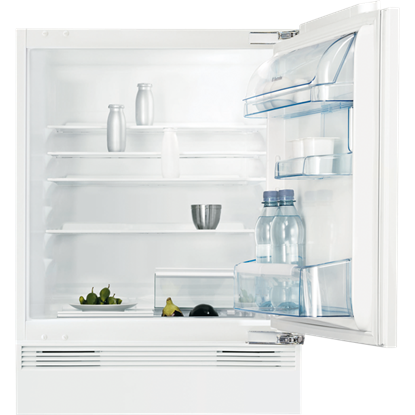 The A+ energy rating means that this model is highly efficient, ensuring low running costs.

The full width covered dairy compartment is ideal for butter and cheese as these foods can then be served straight from the fridge.

Adjustable temperature control for safe food storage.

The 2 full width and 2 half depth glass shelves in this refrigerator have been designed to enable you to use the full width and depth of the fridge's internal space. Because there are no restrictions, you have extra loading space, and can fit more into your fridge.

The full width recessed salad drawer with 2 glass lids makes the most of the space available.

The innovative half-width shelf in the door can slide from left to right, giving you more options when storing your food.


Energy class: A+
Fridge capacity (gross): 140 litres.
Annual energy consumption: 124kWh
Noise: 38dBA
Reversible door.
Dimensions (H x W x D) 815mm x 596mm x 550mm
Minimum dimensions of kitchen opening to suit (H x W x D): 820mm, 600mm, 550mm.

This Electrolux appliance comes with a full 2 year warranty.






This appliance is no longer available,
please follow this this link to view our current models,