Electrolux EUG2243AOW
Integrated Larder Freezer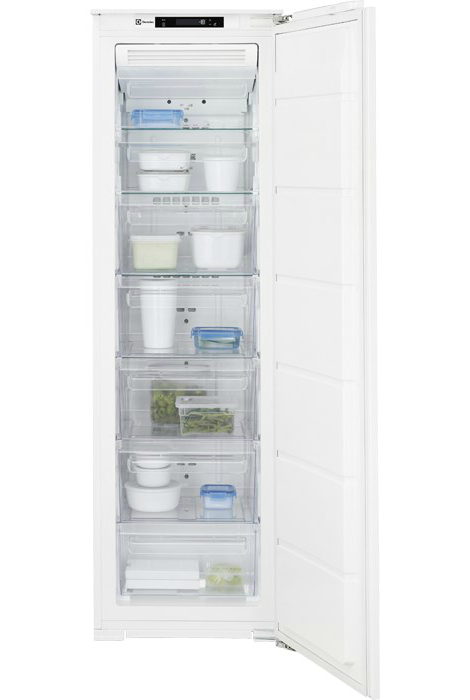 Freezer features:

What could be more refreshing than a cool drink? Thanks to the DrinksChill, you can quickly cool drinks from room temperature to drinking temperature (4° to 6° C). The activation of the timer with a callback function you will not forget your drinks because an alarm will sound.

You cannot check your refrigerator every minute of every day. But if the internal temperature rises, you might not know it until its too late. Temp Alert will tell you if this happens, by sending out an audible alarm and turning on a warning lamp. An acoustic alarm will sound if the door is left open for a few minutes.

Thanks to the generous size of the Box Plus drawer you only need a quick glance to see the content. It also gives you the space you need to store even more bulky foods. The compartment is easily accessible and organized, with its simple opening system, its carrying handles and the front transparency.

Eco Mode automatically adjusts the temperature of your freezer to -18 ° C. It also provides a cycle of regular operation of the compressor thus ensuring the best energy consumption.

Knowing that the consumption of appliances is on average 50% of your electricity bill, this device will allow you to save money. Its technology is ranked A +, is the guarantee of low consumption.

This freezer also has a Fast Freeze function which is useful when inserting your weekly shopping.




Door on door installation.
Freezer Net Capacity : 208 Litres
Annual Energy Consumption: 306kWh
Noise Level: 40dB
CFC & HFC free, helping the environment.
Can be used independently or installed side by side with the ERG3313AOW fridge.

Energy Rating : A+
Dimensions (H x W x D) 1773mm x 540mm x 542mm
Minimum cabinet opening size (H x W x D): 1780mm x 560mm x 550mm

This Electrolux appliance comes with a full 2 year warranty.





This appliance is no longer available,
please follow this this link to view our current models,
To order call 01 5252993