AEG F66602VIOP
60cm Integrated Dishwasher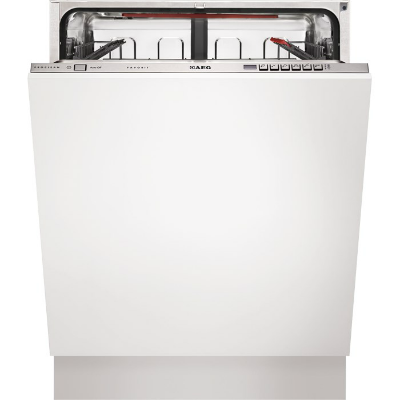 Your delicate glasses can not be cleaned in a safer way thanks to AEG SoftGrip and SoftSpikes which perfectly holds your glasses, protecting them from getting damaged.

This ProClean™ dishwasher gives you maximum water coverage. It has 5 spray levels and a Satellite Spray Arm at the end of its main Spray Arm. This creates a double rotation movement, continuously changing the angle of the spray to reach every corner in the most crowded load.

Sensorlogic uses sensors in the dishwasher to measure the size of the load and the level of soiling. The wash programme is then adjusted to give the best possible performance whilst keeping water, electricity and detergent to a minimum.

Engineered not only for delivering outstanding performance but also for their silent operation.

Check on the status of your dishwashing cycle at a glance. The dishwasher's TimeBeam technology projects the remaining time in a clear red light on the floor.

You don't need to wait for superior cleaning. Use this ProClean™ dishwasher's TimeSaver function and cut the length of the cycle in half. Because it saves time by increasing power and water pressure, you get the same great cleaning results, only faster.

Long stem wine glass holder

For special-occasion glasses, this special flexible support gives extra stability and can be folded away when it is not required.

6 programmes including:
30 min 60° quickwash
Intensive care 70°C wash
Glass 45° C wash
Auto Sense - Regular
Eco
Extra Silent

Auto half load

Temperature Settings: 4
Noise level: 46 dB(A)
Energy Class : A++
Annual Energy Consumption: 262 kWh
Annual Water Consumption: 2860 Litres
Place Settings: 13
Dimensions (H x W x D) 818mm x 596mm x 550mm
Minimum opening size (H x W x D): 830mm x 600mm x 560mm

This AEG appliance comes with a full 5 year guarantee.





Appliance & Installation / Fitting €809
To order call 01 5252993