Hotpoint HZ1422
Integrated 880mm Freezer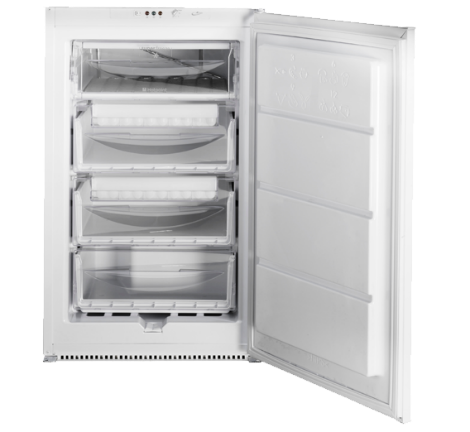 Mechanical on off switch.
Red indicator light, lets you know when the temperature inside the appliance is not sufficient to preserve foodstuffs.
Yellow indicator light to let you know the superfreeze is activated. Temperature adjustment knob.
4 transparent freezer drawers.
2 special sealed ice compartments at the top of the two middle drawers.
Handy foldout nozzle to aid defrosting.


Fridge Net Capacity : 84 Litres
Freezer Gross Capacity : 102 Litres
Slider System
Energy Rating : B
Noise Level: 39dB
Maximum freezer storage time in power failure: 14 hours
Annual Energy Consumption: 190kWh
Dimensions: 870mm(h) x 540mm(w) x 550mm(d)
Minimum cabinet opening size: 880mm(h) x 560mm(w) x 550mm(d)


This Hotpoint appliance comes with a 12 month labour warranty & a 10 year parts warranty when registered with Hotpoint.





This appliance is no longer available,
please follow this this link to view our current models,