AEG L61470WDBI
Integrated Washer Dryer 1400 Spin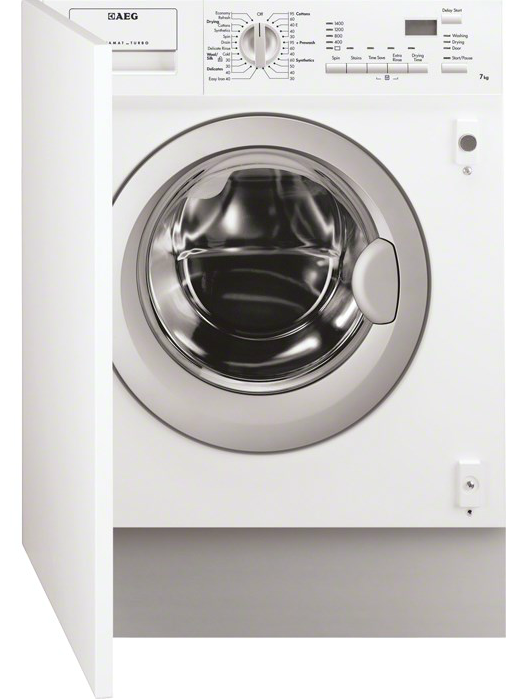 This built-in washer-dryer has a high-capacity drum. As a result, you can launder even large loads with excellent washing and perfect drying results.
With this washer dryer, you can protect yourself against water damage. Its Aqua-Control system stops the water from escaping and alerts you of the situation.
With a super-fast top spin speed of 1400rpm, this washer dryer's spin cycle is highly efficient, saving time in the tumble dryer.

Programmes Include: Cottons 95°C - 30°C
Cotton Economy 40°C & 60°C
Cottons + Prewash 95°C - 40°C
Synthetics 60°C - 40°C
Easy Iron 40°C
Delicates 40°C - 30°C
Wool/Silk 30°C - Cold. The only wool programme in the market with a cool down at the end of the wash phase preventing chill-shock when the cold rinse begins, ensuring shrinkage is minimised.
Delicate Rinses
Refresh 30°C, 30 minute wash for lightly soiled clothes.
Drying Cottons
Drying Synthetics

Programme Options:
Daily/Super quick option
Sensitive option
Automatic child safety
Stain action option


Maximum Spin Speed: 1400 RPM
Maximum wash load size: 7 kg
Maximum drying load size: 4 kg


Energy Class : B
Dimensions (H x W x D) 820mm x 600mm x 545mm
Minimum opening size (H x W x D): 825mm x 600mm x 560mm

This AEG appliance comes with a full 5 year guarantee.







This appliance is no longer available,
please follow this this link to view our current models,