Powerpoint P873TBI
Integrated 70 30 Fridge Freezer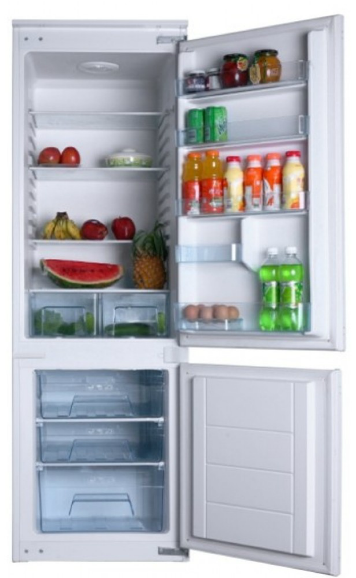 Bright interior LED lighting, giving a crisp modern look.
Integrated fridge freezer with a 2/3-1/3 (70/30) split.
Adjustable temperature control.
Automatic fridge defrost.
Doors hinge both left or right.

3 full width door shelves including bottle shelf.
3 large shelves in the fridge that can be located in various different height positions.
1 full width covered dairy compartment.
2 salad drawers.

3 transparent freezer drawers.
4 star freezer, allows you to safely freeze fresh food and store frozen food.

Energy Rating: A+
Annual energy consumption: 277kWh
Net capacity of fridge: 195 litres
Net capacity of freezer: 73 litres
Noise level: 39dB

Dimensions (H x W x D) 1770mm x 540mm x 550mm
Minimum cabinet opening size (H x W x D): 1780mm x 560mm x 550mm


This Powerpoint appliance comes with a full 2 year manufacturers warranty.
Product registration required with Powerpoint.









This appliance is no longer available,
please follow this this link to view our current models,