AEG SKD71800F0
1780mm Larder Fridge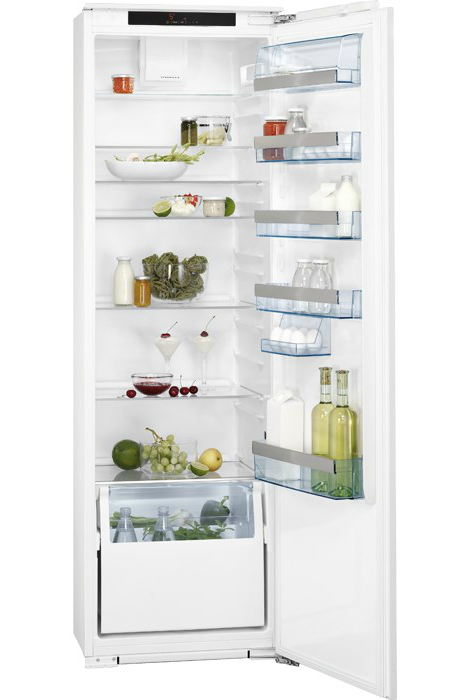 DynamicAir Cooling means that a powerful fan automatically activates to ensure that fridge temperature is maintained at the desired level and food is cooled quickly, preserving food quality.

LCD Touch controls ensure precise temperature and function setting, including useful features such as Coolmatic, holiday function, child lock and minute minder.

A+ energy rating means that this model is highly energy efficient, using 20% less energy than a standard A rated model. Minimising impact on the environment and saving you money.

An extra large, telescopic salad drawer with divider provides a large amount of space for the weekly shop of fresh vegetables and salad.

Soft Rise LED lighting gives a premium and modern feel to the fridge. LED lights are long lasting, consume less energy and do not give off heat, which may affect food storage.

Full width glass shelves with metal look trim, strong, durable and easy to clean helping to maintain low temperatures following door open and closure together with 2 half depth shelves which can be used as a single shelf or as 2 slim depth shelves for the storage of tall items.

Full width covered dairy compartment is ideal for butter and cheese storage, so they can be served straight from the fridge.

Half width sliding door shelf providing versatile storage space.

Matching Freezer: AGN71800F0

Interior light
Fridge capacity (gross): 332 litres
Annual Energy Consumption: 152 kWh
Kitchen Cabinet Door Type: Hangs On Fridge Door (Door On Door System)
Reversible door

Energy Rating : A+
Dimensions (H x W x D) 1773mm x 540mm x 542mm
Minimum cabinet opening size (H x W x D): 1780mm x 560mm x 550mm

This AEG appliance comes with a full 5 year guarantee.




This appliance is no longer available,
please follow this this link to view our current models,
To order call 01 5252993