Bosch SMV87TD00G
60cm Integrated Dishwasher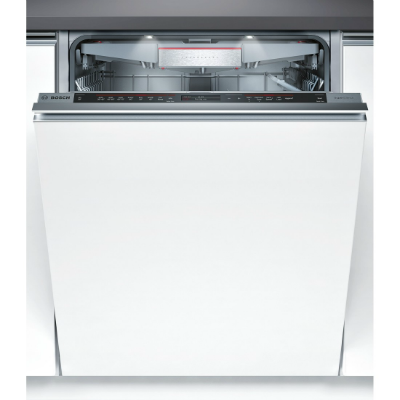 The AquaSensor regulates the water usage depending on the type and degree of soiling, using light beams to manage the rinse.

Dishwashers with heat exchangers treat precious glasses and porcelain with particular care and no risks. Water is pre-heated in the rinsing tank to avoid any temperature shocks.

The load weight is detected by a rotary speed sensor which recognizes the water level. For bigger loads, more water is needed to soak the dishes and the water level decreases. In that case more water is added. For smaller loads, less water is needed for rinsing. The load sensor provides for optimal water usage even for half loads or partial loads, saving water and electricity.

The IntensiveZone option, which can be added to many programmes, ensures a higher spraying pressure and increases the temperature in the lower basket. Heavily soiled pots and pans are cleaned optimally whilst more delicate dishes can be placed in the upper basket.

HygienePlus is a new option that can be activated in many programmes, and guarantees maximum hygiene thanks to antibacterial cleaning. This effect is achieved by a higher temperature level of up to 70°C during rinsing, sustained for approximately 10 minutes. HygienePlus is therefore ideal for people with high hygiene standards, for instance in households with small children or allergy sufferers.

Sometimes you can't wait for the dishwasher to be full before you need to clean your dishes. With the HalfLoad option this is not a problem because it is an ideal cycle for washing fewer dishes. That's how you do not only save water but also save time.

This dishwasher has a cutlery drawer "VarioDrawer" on 3rd level, this leaves more space for larger items on the bottom tier.

7 programmes including:
Auto 35-45 °C,
Auto 45-65 °C,
Auto 65-75 °C,
Super 60 °C,
Economy 50 °C,
Quick Wash 45 °C,
Pre Rinse
4 Special options: Intensive Zone, VarioSpeed Plus, Half Load, Hygiene Plus

Temperature Settings: 6
Noise level: 44 dB(A)
Energy Class : A++
Annual Energy Consumption: 266 kWh
Annual Water Consumption: 2660 Litres
Place Settings: 14
Dimensions (H x W x D) 815mm x 598mm x 550mm
Minimum opening size (H x W x D): 830mm x 600mm x 560mm

This Bosch appliance comes with a full 2 year parts & labour warranty.



Appliance & Installation / Fitting €999
To order call 01 5252993