Zanussi ZBB28440SA
Integrated 50 50 Fridge Freezer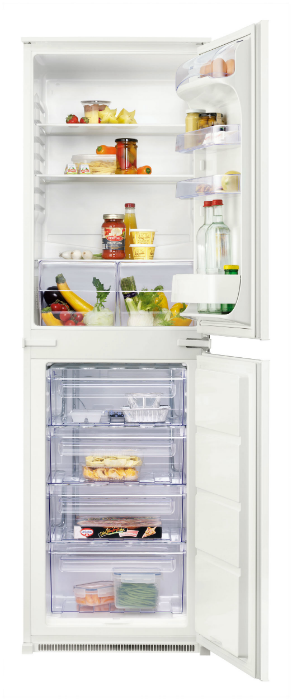 2 full width glass shelves and two half width glass shelves.
2 transparent vegetable / salad crisp containers.
1 large door bottle holding shelf.
2 smaller door shelves
1 dairy compartment with a transparent cover at the top of the door.
Mechanical thermostat selector inside the fridge, with the ability to turn off the whole appliance.
Bright interior light in the fridge compartment.

4 large transparent freezer drawers,
The freezer contains at least one cold accumulator which increases storage time in the event of a power cut.


Annual energy consumption : 298 kWh
Noise Level : 36 dB
Freezing Capacity : 10kg/24hr
Net capacity fridge compartment : 170 litres
Net capacity fridge compartment : 92 litres
Rising time : 24 hours
Colour : White
Doors are reversible, they can hinge left or right.

Energy class : A+
Dimensions (H x W x D) : 1772mm x 540mm x 547mm
Minimum cabinet opening size (H x W x D): 1780mm x 560mm x 550mm


Warranty: 12 month parts and labour warranty.














Appliance & Installation / Fitting €529
To order call 01 5252993