Zanussi ZBB8294
Integrated 70 30 Fridge Freezer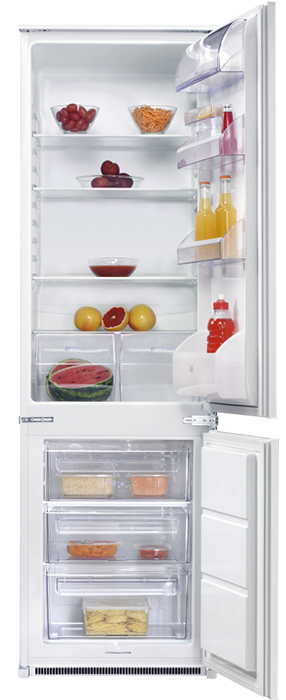 In-column 70 30 combi fridge-freezer.
Cost efficient, with an A class energy label, this energy efficient fridge-freezer helps you help the environment and your pocket.
Easy to wipe clean safety glass shelves prevent spillages from contaminating other food and are height adjustable.
Simple display, easy to use controls.

Features:

Automatic defrost in fridge
2 half width salad drawers
3 height adjustable glass shelves
3 full width door shelves including bottle shelf.

Annual energy consumption: 310kWh
Freezing Capacity: 4 kg/24hr
Nett capacity fridge compartment 210litres
Nett capacity freezer compartment 70litres
Rising time : 20 hrs
Net Weight: 57kg
Noise Level: 36dB
Colour: White
Doors hinge both left or right.

Energy class : A+
Dimensions (H x W x D) : 1772mm x 540mm x 547mm
Minimum cabinet opening size (H x W x D): 1780mm x 560mm x 550mm


Warranty: 12 month parts and labour warranty.










This appliance is no longer available,
please follow this this link to view our current models,