Zanussi ZOB330X
Single Built In Fan Oven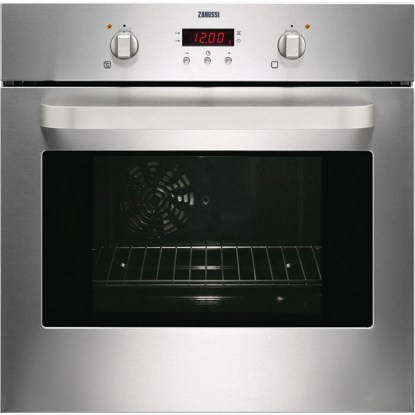 Ideal if you want to come home to a hot meal, our ovens can be programmed to cook your food and automatically switch off, giving you more time to relax.
The electronic temperature regulator makes sure the temperature stays constant, so you get great food every time!
Thermaflow® fan cooking, the clever placement of the fan ensures no transfer of flavour from one dish to another. Lower cooking temperatures and shorter cooking times, help you save time and money.
Fan controlled defrosting Suitable for delicate items such as cream cakes, this light defrost circulates room temperature air around the food slowly, defrosting it hygienically in less than 1/2 the time!

Oven features:

Fully programmable oven timer
Variable grill
Clean 'n' clear enamel interior
2 oven shelves
Fan cooled double glazed door with heat reflective glass
Bright oven light
'A' energy class
Fingerprint proof stainless steel

Energy Rating: A
Dimensions h,w,d : 590mm, 594mm, 560mm
Dimensions of cabinet opening to suit: h,w,d: 590mm, 560mm, 550mm

Warranty: 12 month parts and labour warranty.




This appliance is no longer available,
please follow this this link to view our current models,