ZANUSSI ZOD35702XK
Built in double oven with Catalytic liners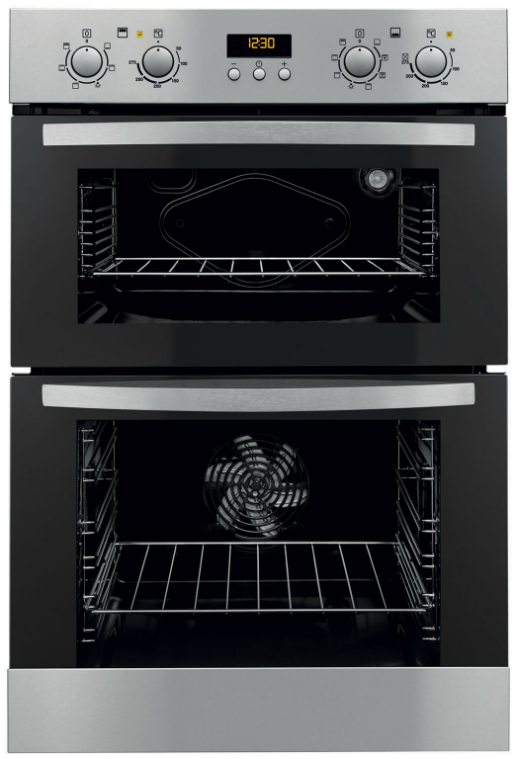 Two cavities provides you with more space and gives you the option to bake and grill at the same time.
Make cooking a more enjoyable part of your life with a multifunction oven, which combines the benefits of the fan and conventional oven for added flexibility.

Specifications:

Retractable oven controls
Fully programmable timer with amber LEDs
Heat activated catalytic cleaning
Air cooled double glazed door

5 Top Oven Functions:

Economy variable grill
Conventional cooking
Bottom heat
Top heat
1 oven shelf

7 Main Oven Functions:

Thermal grilling
Top heat
Bottom heat
Thermaflow® fan operated cooking
Conventional cooking
Economy variable grill
Defrost
Full width meat grill pan
2 oven shelves

Also available in black.

Number of top oven functions: 5
Number of bottom oven functions: 7

Top oven capacity: 43 litres
Bottom oven capacity: 68 litres

Energy Rating Top Oven: A
Energy Rating Bottom Oven: A

Energy Rating: A

Dimensions h,w,d : 888mm, 594mm, 548mm
Dimensions of cabinet opening to suit: h,w,d: 875mm, 560mm, 550mm

This Zanussi appliance comes with a 12 month guarantee.









Appliance & Installation / Fitting €689 To order call 01 5252993