Zanussi ZOF35702XK
Built In Under Counter Double Oven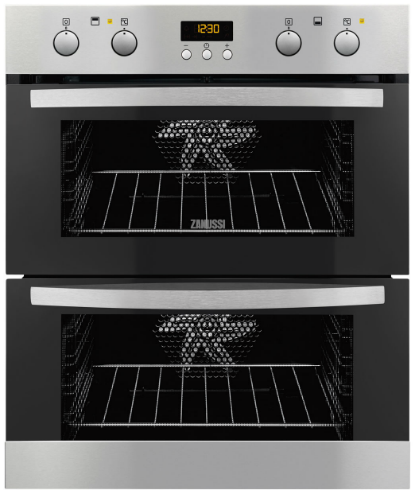 7 top oven functions including:
Pizza Oven
Thermal Grilling
Bottom Heat
Single Grill
Dual Grill
Top Heat
Conventional Oven
Light- to light up the oven interior

5 bottom oven functions including:
Thermaflow®, roast and bake food at the same cooking temperature on different levels at the same time.
Single Grill
Dual Grill
Thermal Grilling
Defrost
Light- to light up the oven interior
Air cooled double glazed door

Digital program timer
Retractable oven controls

The walls of this oven have a catalytic coating and are self-cleaning. They absorb fat which collects on walls while the oven operates.

Both doors of this oven are removable for cleaning along with their inner glass. The rails that support the trays are also removable for cleaning.

Top oven capacity: 40 litres
Bottom oven capacity: 46 litres
Energy Rating: A
Dimensions h,w,d : 715mm, 594mm, 548mm
Dimensions of opening to suit: h,w,d: 720mm, 600mm or 560mm, 560mm

Warranty: 12 month parts and labour warranty.





Appliance & Installation / Fitting €799
To order call 01 5252993