Zanussi ZOU370X
Built In Under Counter Double Oven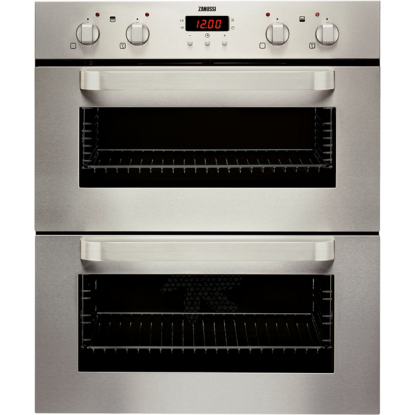 Energy class (top oven) A
Energy class (bottom oven) A
Leave your oven in charge of the dinner! The programmable timer switches the oven on and off when you tell it to, so dinner is only ready when you are.
Clear 'n' Clean enamel makes it easier to clean those stubborn burnt-on spills.
Thermaflow® fan cooking ensures an even temperature throughout the oven - ideal for batch baking or cooking food with different flavours together.
Thermaflow® fan cooking forces air over a central ring element ensuring an even temperature throughout the oven. It saves time and energy by heating up quickly and cooking at lower temperatures.
Easy to use economy variable grill, which allows you to cook large or small portions in a healthy and convenient way.
Fan controlled defrosting, suitable for delicate items such as cream cakes, this light defrost circulates room temperature air around the food slowly, defrosting it hygienically in less than 1/2 the time!
Cool front door system with reflective glass, together with the cooling fan for low surface temperature on the oven door.
Chrome grid runners with auto-stop anti-tip shelves
Colour: Fingerprint proof stainless steel

Energy Rating: A
Dimensions h,w,d : 715mm, 594mm, 548mm
Dimensions of opening to suit: h,w,d: 720mm, 600mm or 560mm, 560mm

Warranty: 12 month & an additional 4 years major parts warranty.




This appliance is no longer available,
please follow this this link to view our current models,