Zanussi ZQF6114A
Under Counter Integrated Freezer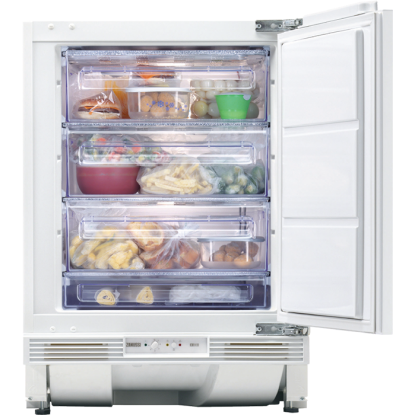 Faster freezing for fresher, safer food storage. Switch on Zanussi's fast freeze function before you go to the supermarket, it lowers the freezer temperature, protects the contents and quickly freezes fresh food.
Always find what you are looking for with our removable transparent freezer baskets, easier for loading and unloading.
Don't worry about the temperature – the alarm light will alert you if the freezer warms up.
Fast freeze function with automatic reset.
This option ensures that newly added food is quickly frozen, preserving it's quality and colour.
The controls are so easy to understand, it's almost intuitive.
Ideal for all your freezing needs, this 4 star rated freezer allows you to freeze food from fresh and store frozen food for up to 12 months.
3 large freezer drawers, plus unique lower drawer can be used to store fruit, pizza etc and double as a defrosting tray.

Reversible door
Hinge type: Fixed door on door.
Freezer capacity (gross) 108 litres.

Energy class: A
Dimensions (H x W x D) 815mm x 596mm x 550mm
Minimum dimensions of kitchen opening to suit (H x W x D): 820mm, 600mm, 550mm.

Warranty: 12 month & an additional 4 years major parts warranty.




This appliance is no longer available,
please follow this this link to view our current models,