Zanussi ZWI71201WA
Integrated Washing Machine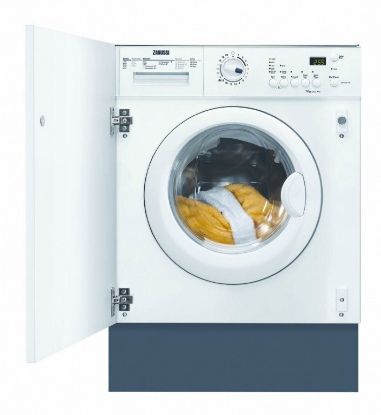 20 Programmes including: 4 Cotton Programmes
3 Synthetic Programmes
2 Delicate Programmes
3 Handwash Programmes
Wool Programme
Jeans Programme
Curtains Programme
Soak Programme
Mini 30 Programme - for lightly soiled clothes
Rinse Programme
Drain Programme
Spin Programme

Options available inside programmes:
Spin Reduction, Rinse Hold, Extra Rinse, Easy Iron, Prewash, Super Quick, Eco

This machine has the option of a child safety lock which can be used to prevent a wash being changed, or to prevent the machine from being started.

Delay start, set the delay start and relax, your washing machine knows when you want it to switch itself on.

Maximum spin speed (rpm): 1200
Maximum wash load size: 7 kg

Energy Rating : A++
Annual Energy Consmption: 190kWh
Annual Water Consmption: 10469 Litres
Wash Noise Level: 56dB
Spin Noise Level: 72dB
Dimensions (H x W x D) 820mm x 596mm x 555mm
Minimum opening size (H x W x D): 820mm x 600mm x 560mm

Warranty: 12 month parts and labour warranty.




Appliance & Installation / Fitting €639
(Our price includes refitting your cabinet door to the new appliance)
To order call 01 5252993