Zanussi ZWT71201WA
Integrated Washer Dryer
1200 RPM Spin Speed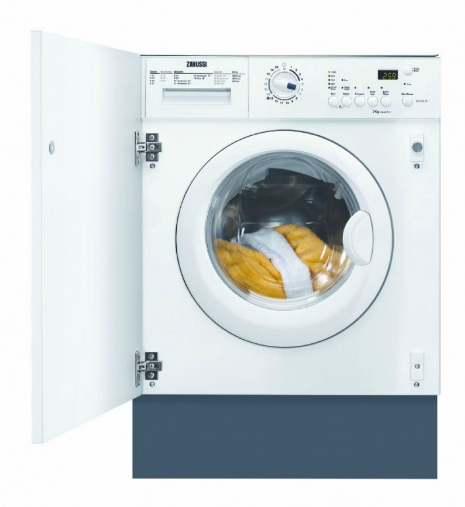 Resulting from new technology, the Jetsystem conserves electricity and water depending on the amount of washing you have.
If the wash load is very dirty you can select the pre-wash function, this helps by washing away the heavy dirt before the normal wash.
LCD display letting you know how long is left before programme ends
The quick wash function gives you an option for reducing the wash duration.
24 different wash selections, some of which are:
Cottons
Synthetics
Delicates
Handwash
Options inside the wash selections:
Super Quick, Extra Rinse, Eco, Easy Iron, Rinse Hold
The time delay function which enables you to set the wash to start in the next 30 mins to 20 hours.

Cabinet door is reversible, it can hinge either left or right. Washer dryer door (glass door) is not reversible.
Maximum wash load size: 7 kg
Maximum drying load size: 4 kg



Energy Rating : B
Dimensions (H x W x D) 820mm x 600mm x 555mm
Minimum opening size (H x W x D): 830mm x 600mm x 560mm

Warranty: 12 month parts and labour warranty.







This appliance is no longer available,
please follow this this link to view our current models,